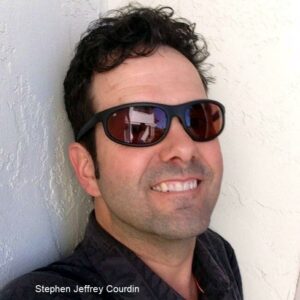 LAKEWOOD, CO – April 2, 2019. The ALS NeverSurrender Foundation and ALS Art4the Cure sadly announces the passing of Steph Courdin, co-founder of the ALS NeverSurrender Foundation on Tuesday, March 26, 2019 after a six year courageous battle with ALS, amyotrophic lateral sclerosis, also known as Lou Gehrig's disease. At the time of his passing, he was surrounded by family and friends.
Steph was born in Ottawa, Canada to Peter and Margaret Courdin. As a child, Steph played hockey, baseball and soccer, and enjoyed waterskiing, rafting, and fishing. As a teenager, Steph had a passion for canoeing, and competed in paddling single, double and eight-man provincial competitions, winning several medals. After college, Steph moved to Silicon Valley to begin a career in business information and analytics, followed by another career move to Denver, and later to San Diego. 
Steph was a loving father and husband, who enjoyed frequent family vacations. He shared his many passions with his children, including epic snowboarding adventures and camping horseback explorations though Wyoming. 
Steph's true passion was photography. He began his photography career in Ottawa, working with one of the city's top wedding photographers. After moving to Denver, he opened a studio there. He frequently served as a photographer for Westernaires, a non-profit located in the Denver area dedicated to supporting young adults in horsemanship, and he enjoyed being in the arena taking pictures of the drill teams. 
After being diagnosed with ALS, Steph co-founded the ALS NeverSurrender Foundation in 2015 along with his daughter, Cubrina Friedman. Through the foundation, Steph invented and built ALS iNVOLVE and eNGAGE, patient progression tracking mobile apps. These apps track over 80 points of patient data associated with ALS disease progression. The data collected by these apps will be used for patients and their care teams to better understand ALS progression, and will be used for researchers to assist in finding the cause and cure for the disease. 
Steph is survived by his wife, Stacey, three children, Cubrina Friedman (her husband Nic), Ashlynn, and Jeremy, father Peter (his wife Karen) Courdin, grandmother, Gertrude "Nan" Hannan, and many other family members and friends. He was preceded in death by his mother, Margaret Courdin, and sister, Sandra McCartney. 
Although Steph passed away from complications due to his ALS, he fought to the very end and did not surrender. 
Donations in memory of Steph can be made to ALS NeverSurrender: 
http://www.ALSNeverSurrender.org 
Watch our story on YouTube: 
https://www.youtube.com/playlist?list=PL0_ja7aN5WydDWeQaDSp32-cyG-hd4bWV 
About the ALS NeverSurrender Foundation 
The ALS NeverSurrender Foundation is a nonprofit 501 (3)(c) tax-exempt organization focused on creating the first ever ALS Biometric and Telemetry Patient mobile app to empower pALS (People with ALS) to take control of their ALS journey, by capturing vast amounts of quantitative data to support their qualitative symptoms. 
The ALS NeverSurrender Foundation, through a network of volunteer researchers and leading technologists with expertise in mobile and enterprise technology, ALS medical researchers, and clinicians, is developing, managing, and distributing the ALS iNVOLVE patient app and ALS eNGAGE enterprise apps. Through these apps, patients perform simple activities on their mobile device. Measurements collected from performing these activities are pushed to a universal platform of information where trends in these measurements are identified earlier than during typical disease progression clinical checkups. Access to information in the universal platform enables patients, support teams, clinical specialists, and researchers to manage the symptoms on a more frequent basis than through typical ALS patient monitoring. 
About Art4theCure 
As a part of the ALS NeverSurrender Foundation, which is a registered 501 (3)(c) not for profit organization, Art4theCure holds fundraising auction events to fund the development and operations activities of the ALS NeverSurrender Foundation. Together art and technology can change lives forever.